Are things like lack of time, skillset and fear of making mistakes holding you back from starting with network automation? Pieter van Os, Solution Architect at NetYCE, takes you through the mistakes and learnings during his first experience with network automation.
In this ebook, we will discuss the 5 lessons that Pieter has learned as a network engineer. So you don't have to make the same mistakes he did.
In this Ebook you'll learn:
How to get started with network automation.

The benefits of network automation.
Practical solutions for the challenges you'll face.

How to find a network automation solution that suits you best.
Find out how you can start with network automation today ⇒
Fill out the form and get access to the ebook: The 5 lessons I learned when starting out with network automation.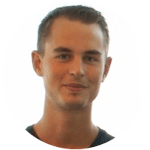 Pieter van Os, Solution Architect at NetYCE